What is new on the Horizon? We have a new vision for the future.
During the last few years we have seen massive growth & change at Horizon. So we decided now was a good time to take a good hard look at ourselves to see what actually makes us tick. The harder we looked, the more we realized that when you strip everything away, what we actually do is provide solutions to our clients. And not just any solutions, but the right solutions for you and your unique business needs.
With that in mind we are proud to launch our new Vision statement:
---
"Empowering your business with innovative
People, Process & Technology"
---
Backing that vision up is a strong set of values that we've carried with us since we helped our first client in 1995:
TEAMWORK
We support and promote our people working together to achieve common goals. Together, we adapt, overcome, and innovate
RESPECT
We honor the rights and beliefs of our team members, customers, shareholders, suppliers and our community. Our relationships are defined with dignity, equality, fairness and trust.
INTEGRITY
We conduct ourselves with the highest ethical standards through the rights and beliefs of our team members, customers, shareholders, suppliers and our community – demonstrating honesty, equality and fairness in every task we undertake.
INNOVATION
We are leaders in providing value to our team members, clients, shareholders, suppliers and the community.
ACCOUNTABILITY
We accept our individual & team responsibilities, and we honor our commitments. We take responsibility for our performance in all of our decisions and actions.
That's what we do. That's our vision & guiding ethos for every project we take on & our pledge to you as your IT partner. Over the past 23 years Horizon has evolved into providing many lines of IT solutions & services.
Digital Workplace Solutions

 

– intranets, websites, document & records management
Data Center Solutions

 

– data storage, virtualization, cloud, networking & security
Professional Services

 

– architecture, security, project management, business analysis & application development
Managed Services

 

– service desk, disaster recovery, security & print
Backing our solutions are partnerships with leading IT manufacturers: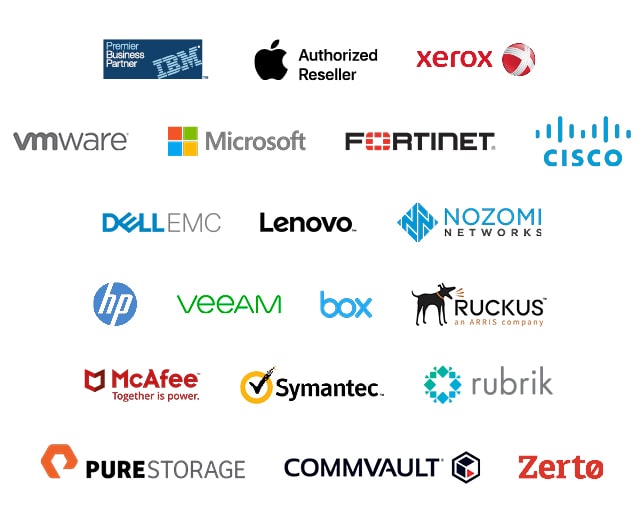 Learn more about our IT Business Solutions here. Or, reach out directly to us for any questions or concerns here!